Technical
How cloud architects use Visual Composer 2.1 for AWS CloudFormation to practice application-centred cloud
Our existing software, Cloudsoft AMP, already gives users the autonomy needed to run their applications on any cloud and on-premises seamlessly. But with a market that constantly evolves, along with growing competition, how can you become an elite cloud performer and increase your company's velocity, agility and safety in the cloud while it's constantly changing around you?
Cloudsoft created the Visual Composer for AWS CloudFormation and Service Catalog to enable users to benefit from the powers of application-centered cloud when using the leading public cloud, Amazon Web Services.
The AWS "lingua franca" is CloudFormation: a sophisticated and powerful cloud language, with a steep learning curve for beginners and sometimes it even frustrates the AWS Pros. Put Visual Composer in front of AWS and into your workflow and now developers, solutions architects and AWS Pros can:
Easily and visually blueprint applications in a few clicks, whether you're a beginner or an experienced user

Graphically create CloudFormation designs with a drag-and-drop tool

Export real CloudFormation with use with AWS.

Quickly add your application to the AWS Service Catalog
Why bother doing this? What's the point? Here are the outcomes that Visual Composer users are reporting.
Cut down on time spent coding with the easy drag-and-drop system and increase your efficiency

Allow team members of all levels to work together with the Visual Composer's universally accessible platform

Scale and update an application a lot more easily
Visual Composer 2.1: Quicker, Smart and More Efficient
The latest release of Cloudsoft Visual Composer is available from the AWS Marketplace. Visual Composer 2.1 offers all the highest-priority new features provided in response to feedback from early adopters of the previous releases, making this graphical composer for AWS CloudFormation more usable, more versatile and more extendable. We cover the latest features:
Introducing Templates

Enhanced UI

Deeper Context Assistance
1. Introducing Templates
Rather than having to start with a blank canvas, compose by starting from an existing template, with the most commonly used already supplied.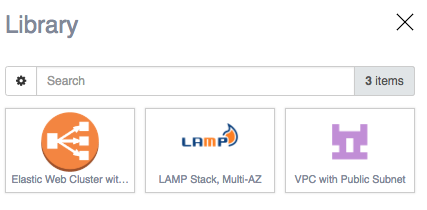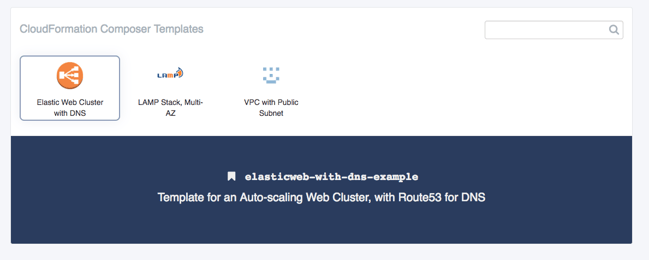 Install your own choice of preferred templates for a clean, efficient choice of starting points.
Speed up composing by saving new designs and templates, and then import and modify them as needed.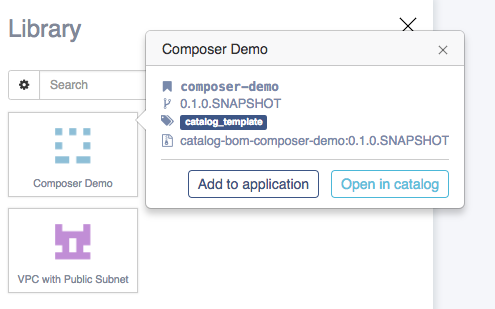 2. Enhanced UI
With hundreds of items available, the palate now has a powerful set of views, searching and sorting tools, and filters. This provides an uncluttered view of only those items needed right now, such as the most-recently used ones, making Visual Composer faster and easier to use.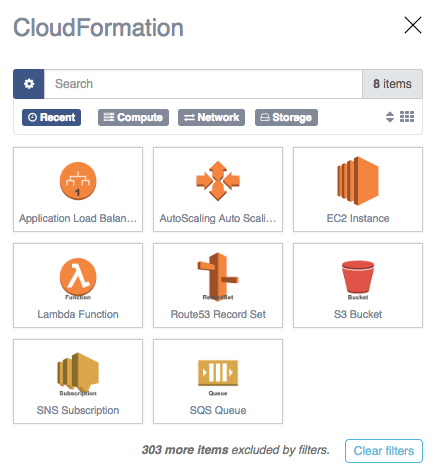 The item configuration pane now has its own space, so it doesn't ever hide the palate. No more having to choose which one you want to see!

3. Deeper Context Assistance
When populating values in new entities, rather than having to refer back to the AWS console and paste values across, Visual Composer now runs with access to your AWS account, so that values can be chosen from drop-down lists of already existing items. What was a laborious switching back and forth between windows is now focussed and fast.

What current users say about the Visual Composer
Our application-centered tools are powerful ones. Cloudsoft AMP, our application management software, has already allowed users to turn run books into a single button, going from a 5-day process to a 5-minute one. It can secure on-premises Oracle databases by wiring them together with online cloud security. The most common application pattern out there -- the classic three-tier web app -- is a great use case for Visual Composer.
Cloudsoft AMP and the Visual Composer share the same graphical user interface, but the latter is made especially for AWS. It allows users to increase their company's velocity in the cloud, while still providing them with enough guidance and safety to ensure the safety of their app.
Alex Heneveld, Cloudsoft's Chief Technology Officer, says that "the feedback from customers, AWS Solution Architects, Trainers and early preview customers has been that the Visual Composer makes it much easier for beginners or experts to create CloudFormation templates and AWS Service Catalog products."
And with updates coming up so fast, you can be sure that the Visual Composer will remain relevant, powerful, and grow along with you and the market you live in.
Resources
Get a 7-day free trial for our easy-to-use Visual Composer, made to create Cloudformation templates easily and graphically.