News
And the winner of the Gemalto SafeNet Data Protection on Demand hackathon with Cloudsoft was...
...customers who will have access to some new and innovative security solutions!

Gemalto are the world leader in digital security, and this week they brought together eight global teams of partners and employees into Paris for a Hackathon around their SafeNet Data Protection on Demand (DPOD) service.
The Hackathon Challenge: Eight teams enter, but only one leaves!
Hackathons are hugely intense, fun and yet serious events.
Hackathons are not just about technology either: yes, it's about hacking technology to create something new, but it's also about hacking people, process and business because technology answers on their own are just not enough. It's about getting people out of their comfort zones. Hackathons should feel uncomfortable!
An often under-recognised aspect of Hackathons is the teamwork.
You are literally putting people together for the first time, asking them to think from new perspectives, do things they don't normally do and still apply their own unique skills, experience and perspectives with a team to create something new and unexpected. Developers doing user-centred design. Marketing folks doing prototyping. Everyone preventing perfect being the enemy of the good. Producing a Minimum Viable Product. Getting stuff done.

Cloudsoft were at the Hackathon to support the teams in the automation and integration of their solutions. Why Cloudsoft and Gemalto? Cloudsoft engineers, services and software are used to integrate the Gemalto security products with systems such as Oracle. With our Cloudsoft AMP product, Gemalto can reliably, securely and quickly secure systems where in the past it might take a field engineer a few days to follow a runbook to achieve the same task with variable outcomes. Today, with Cloudsoft AMP, that integration process is just one button that takes few minutes and the same outcome every time: happy and secure customers!

Gemalto's Data Protection on Demand
The Hackathon was built around Gemalto's SafeNet Data Protection on Demand, which is Gemalto's cloudification of their hardware security modules (HSMs), as well as their key management and encryption solutions.
HSMs are physical security devices that the biggest companies in the world trust with their secrets and SafeNet Data Protection on Demand makes the same services available online, in the cloud, on demand. Remember: one of the essential cloud characteristics is "broad network access" - everything is connected, so moving these essential security services to the cloud is something everyone expects.
SafeNet Data Protection On Demand is a cloud-based platform providing a wide range of on-demand key management and encryption services through a simple online marketplace. Security is now simpler, more cost effective and easier to manage because there is no hardware to buy, deploy and maintain. Just click and deploy the services you need, provision users, add devices and get usage reporting in minutes.
The Hackathon winning solutions
What the Hackathon revealed was that new opportunities now open up once you have SafeNet Data Protection on Demand. You can start weaving business services into security services in new and previously impossible ways. Some examples at the Hackathon were:
Secure signing of Docker images to establish trust of artefacts

Securing Personal Identifiable Information (PII) as part of Data Loss Prevention (DLP)

Secure key migration from physical devices to the cloud.
One of the highlights of the Hackathon for me was the customer-obsession and focus on end-user needs. What is the problem? Why would a user care? What's your answer? Why is it compelling. Ditch the boring Powerpoint! Pitch to human emotion! Make the solutions personal to the audience! (Easier said than done!)
But what about the World Cup?
The week in Paris was also about World Cup football. What a great atmosphere in which to hold a Hackathon. Super thanks go to Gary Marsden the Senior Director at Gemalto who led the team that made it happen, and he somehow managed to arrange for France and England to play in the same week as his Hackathon. Congratulations to Les Blues and commiserations to The Lions.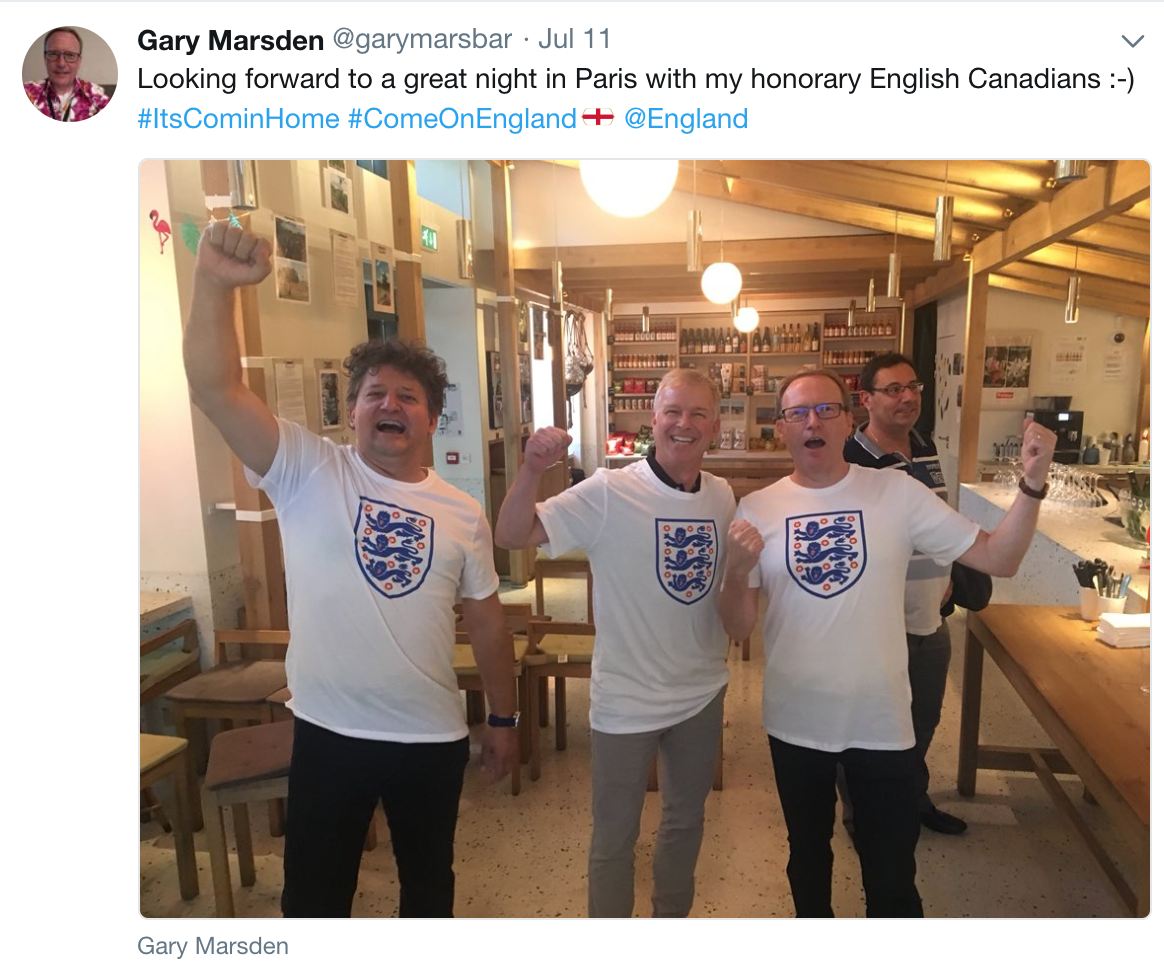 I took this picture before Croatia vs England match - I think there are at least three different nationalities in this picture, make that four if you count the Yorkshireman taking the picture
Can Cloudsoft and Gemalto help you?
If you want to to get started with Gemalto's SafeNet Data Protection on Demand - go straight here.
If you want help running complex applications in the cloud then contact Cloudsoft.
Cloudsoft also does a free AWS Health Check to give you security and cost optimization recommendations.
Get a 7-day free trial for our easy-to-use Visual Composer, made to create Cloudformation templates easily and graphically.