AUTOMATING RELIABILITY
Reliability is a competitive success factor. Every second of downtime leads to lost revenue, tumbling share prices and reputational damage.
You need confidence in the reliability of your critical systems. You need to empower Site Reliability Engineering to scale, and scale fast.
Introducing Cloudsoft AMP
Cloudsoft AMP is a platform-based solution with state-of the art automation and everything-as-code capabilities. It benefits enterprises seeking improved reliability and advanced automation across complex hybrid IT and cloud estates.
AMP is ideally suited to enable and support the increasingly strategic disciplines of Site Reliability Engineering (SRE) and Platform Engineering.
By improving your ability to detect and solve resilience and reliability issues, AMP augments the productivity of reliability engineers and platform teams.
AMP:
reduces toil
auto-remediate issues
improves reliability.
Build self-healing ecosystems to improve reliability and reduce toil.
AMP is infrastructure-independent and can effectively manage environments across private clouds, public clouds, on-premises environments and container platforms. This means AMP will not add to the complexity of any tech estate; instead it aids control and visibility, whilst maximising value from all existing technology and tooling investments.
Let's talk
Let's start a conversation
How Cloudsoft AMP works:
Codify your applications and your infrastructure in a declarative model (Environment-as-Code) and let AMP provide a single, unified control plane to design, manage, automate and govern entire environments; rapidly, consistently, resiliently and at scale.
Advanced automation
Simplify automation and attach it anywhere across your tech stack; AMP's sensors, effectors and declarative workflow provide advanced closed and open-loop automation - enabling self-healing, zerotouch operations, brownfield use cases and more.
Autonomic operations
Powering state-of-the-art orchestration, AMP's autonomic policy-based management and associated workflow can configure, optimise, heal and protect environments under its control, automatically. Your SREs can focus on architecting for reliability, rather than fighting fires.
Composability
Create composable design-time and consistent runtime models in reusable blueprints; capturing and codifying architecture, best practices, policies, processes, runbooks and more; all completely independent of infrastructure, so they can be deployed anywhere, consistently and without error.
Environment-as-code
With agile approaches revolutionising technology provision and management, AMP elevates infrastructure-as-code to environment-as-code (EaC); providing a consistent and declarative way of defining, governing and managing environments, via an easy-to-use unified control plane.
Auto-remediation vs simple monitoring - a 96% reduction in MTTR
In complex IT environments, failure is to be expected. Cloudsoft AMP gets you back up and running with minimal downtime.
Here, we compare incident recovery time with AMP's auto-remediation capabilities vs simple monitoring and alerting capabilities.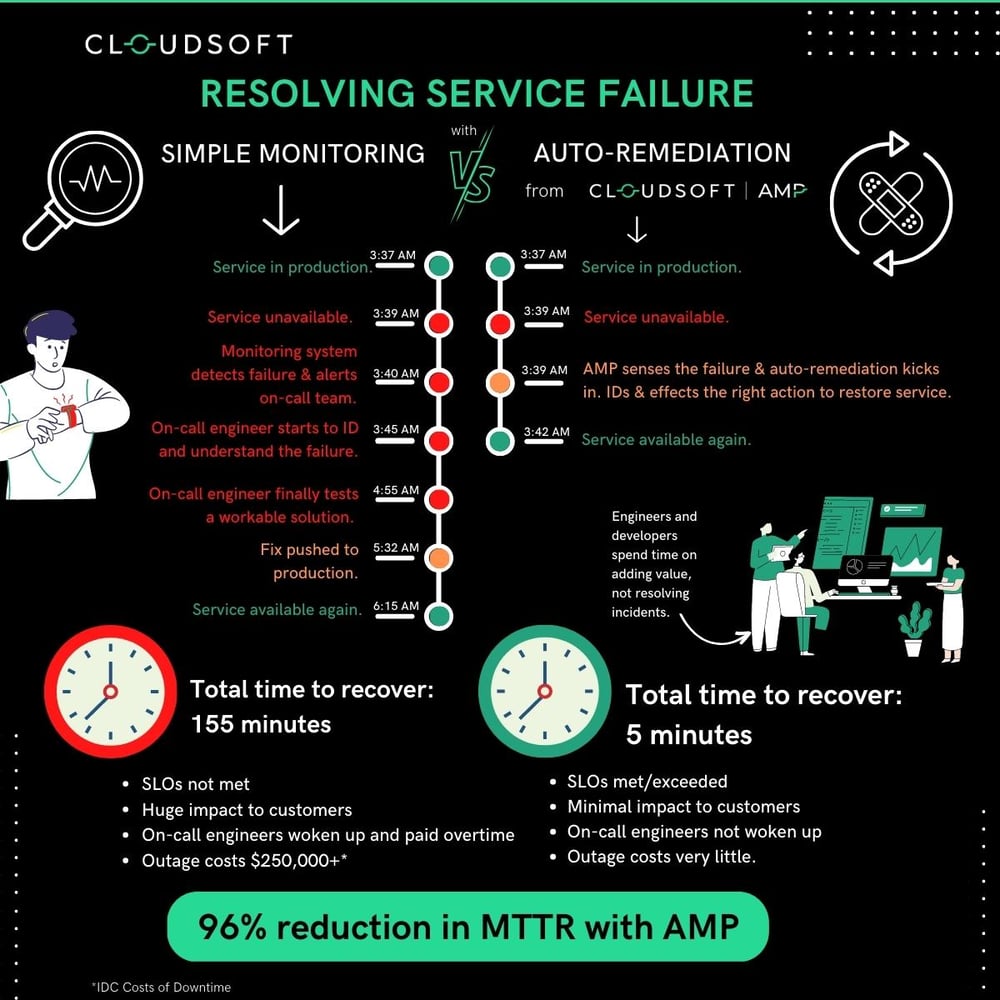 A Gartner Digital Platform Conductor for complex IT infrastructure
Platforms conduct your digital infrastructure, and are essential to embedding reliability.
AMP was recognised in the inaugural Gartner Market Guide for Digital Platform Conductor tools as suiting organisations with complex infrastructure environments who are focused on enabling business-led technology efforts and want to be I&O platform led.
Digital Platform Conductors:
co-ordinate hybrid digital infrastructure management tools

provide a unified view of digital infrastructure and dependent applications

enable overarching view of infrastructure.
Read about the Gartner Market Guide