TEMPO
Why AWS has dominated the cloud market for over a decade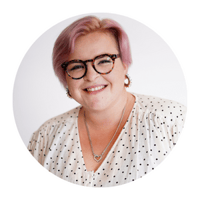 Charlotte Binstead
According to the latest Flexera State of Cloud Report, 97% of organisations are now using at least one public cloud.
With such widespread adoption of cloud, the big question is no longer 'should we move to the cloud?' it's 'which cloud(s) should we choose?!'
In this year's Gartner Magic Quadrant for Cloud Infrastructure and Platform Services, AWS far out-performed other big names such as Microsoft Azure and Google Cloud: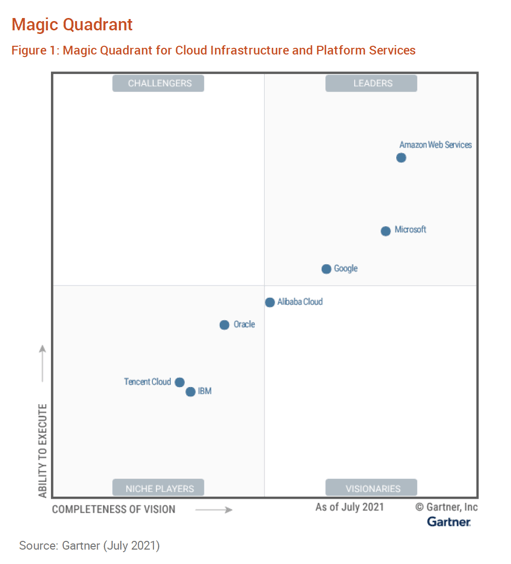 Why did AWS come out on top?
Market share
With around a third of the cloud market, AWS's market share is unrivalled, and organisations are willing to make significant financial commitments to its services. This means AWS has stability and longevity, and plenty of funds to invest in cutting edge innovations for its customers.
Engineering supply chain
AWS is able to leverage its size into commanding more of the supply chain. AWS uses its engineering and supply chain advantages to make significant investments in hardware like CPUs which deliver a better price/performance than competitors. These benefits are then passed onto customers.
Innovation
AWS is a Magic Quadrant Leader because it sets the market pace for innovation, and tends to guide the roadmap for other, smaller cloud providers. Again, size works to AWS' (and your) advantage because it has greater 'mind-share' across a broader range of user types and industries, meaning that they are able to innovate to meet the specific demands of these types of customers.
And here's a few more reasons we think AWS is a great choice of cloud provider:
Security, availability & reliability
Overall, AWS is available in 245 countries and territories. These are divided into 76 'availability zones' in which its servers are located. These serviced regions are then subdivided in order to allow users to set geographical limits on their services (if they so choose), but also to provide security and recoverability by distributing data storage over a number of physical locations. AWS is also able to throw its considerable experience in outages and security threat detection to ensure that they're quickly identified and easily remedied, 24/7 without you having to lift a finger.
Environment and sustainability
Consuming cloud services from AWS means you can buy into environmental economies of scale. According to AWS, organisations running in the cloud generally use 77% fewer servers, 84% less power and run on a renewable electricity supply that's 28% cleaner. AWS also has a long-term commitment to running on 100% renewable energy sources.
Isn't AWS a bit...complicated?
One cautionary note from the Gartner Magic Quadrant report is that, in part due to the pace of innovation and the scale of solutions delivered to meet the demands of its array of customers, getting to grips with AWS can be challenging. There are currently over 200 AWS solutions and services to choose from and users may not always have all of the technical skills required to navigate the choices of container, database and data management solutions AWS presents them with. And that's where we come in!
These are just some of the reasons why we chose to become an AWS Advanced Consulting Partner. No other cloud provider offers the same scale and depth with their solutions, and we enjoy keeping on top of the latest innovations and advising our customers about them.
Our Cloudsoft Tempo cloud consultancy services are set up to help you Migrate to, Modernise on and Manage your AWS environment. We're always happy to chat about cloud, so why not book a chat with one of our cloud experts and see how we can help you to navigate your cloud journey.