Maturing your resilience strategy
Accelerated digital change in response to world events has resulted in increasingly complex IT environments and unexpected new levels of fragility. In response, regulators are (imminently) ramping up demands around operational resilience.

With change only accelerating, how do you tame this complexity, ensure critical service resilience, and meet increasing regulatory demands?
Resilience Readiness Assessment - book yours today
Why get assessed?
Regulators see the overall continuity of your Important Business Services as paramount - and it is your responsibility as a regulated firm to make sure they are available to end-users.

Our Resilience Readiness Assessment is designed to highlight accelerated routes to greater maturity and help you comply with regulation, fast.
Fill in the form to speak to us about a Resilience Readiness Assessment for your organisation, and let's get you ready for regulation.
How will it help?
The Resilience Readiness Assessment will help your organisation in 4 key areas:
Understand why resilience is now a strategic priority.
Understand your maturity level aligned to regulatory requirements.
Understand what you need to to NOW to meet regulatory requirements.
Understand how you can move beyond resilience to anti-fragility.

The cost of not being resilient can be severe and possibly fatal. It must be embedded into the culture of the organisation
- Gartner, Outlook for Organisational Resilience, 2021
The Cloudsoft Digital Operational Resilience Readiness Model
From risk, to resilience, to antifragility
During the interactive workshop, we'll assess your organisation across seven key dimensions:
Regulation
Continuity
Automation
Composability
Innovation
ESG
People.
These will be assessed in line with the 5 stages of maturity identified on the model below.
After the workshop, you will receive a personalised report and action plan, providing a complete picture of your operational resilience risks and identifying opportunities to move beyond resilience to antifragility.
Find out more about a Resilience Readiness Assessment
Resilience in action
A US-based, Tier 1 Global Bank achieves visibility, agility and reliability.
The Bank have been running Cloudsoft AMP for over 2 years, with AMP providing a single control plane to monitor, orchestrate and automate management of their applications across any cloud or platform - including production data centres, private clouds and public clouds.
AMP addressed the following problems, and read on for more detail of the benefits AMP has delivered already - including a 99% reduction in unplanned downtime and a 75% efficiency saving.
learn more
Compliance countdown
By March 2022, regulated service providers must have:
- ensured visibility by identifying critical applications and vulnerabilities;
- ensured reliability by defining impact tolerances;
- ensured agility by identifying and implementing solutions to address vulnerabilities and meet impact tolerances.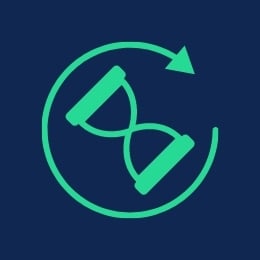 Are you ready for regulation?