6 Reasons Why Cloud Migration Is A No-Brainer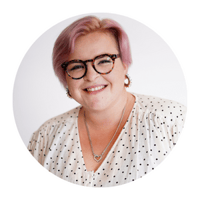 Charlotte Binstead
92% of CIOs report that their role, and the role of tech within the business, has changed.
Technology teams are now tasked with recalibrating business transformation, adaptively redesigning digital experiences and showing IT's impact on the bottom line.
No wonder nearly 2/3 of IT leaders are prioritising cloud migration initiatives in 2022.
Fundamentally, the cloud is about speed, scale and service. Cloud migrations can deliver:
cost efficiency, and sustainability;
greater agility for developers;
improved security;
ability to scale quickly on demand;
greater resilience and disaster recovery;
access to new technologies like machine learning and AI.
Let's take a closer look at each of these benefits:
1) Cost efficiency and sustainability
On the cost efficiency front, the cloud has a lot to offer. Because the cloud is scalable, businesses only pay for the resources they use, making it a very efficient way to run operations. Bringing on FinOps expertise can help to make sure that your cloud environment, and developer and business processes, are ready for the switch to cloud.
On the sustainability front, the cloud also has a lot to offer. Cloud providers are committed to increasing their use of renewable energy sources and efficient data centre design, meaning you can access these carbon efficiencies too.
However, to take advantage of these benefits operations should be optimised for the cloud and ensure that cloud resources are used efficiently.
2) Greater developer agility
One area where the cloud can be particularly helpful is in enabling greater agility for developers and quicker time to market.
DevOps is a set of practices that helps organizations to automate and speed up the process of software development and delivery. By moving to the cloud, businesses can take advantage of DevOps automation tools and processes to speed up their software development cycle and get new products and features to market faster. As a result, the cloud can help businesses to be more agile, responsive to change and meet customers increasing digital expectations.
3) Better security
When it comes to security, the cloud has a bit of an advantage over traditional on-premises IT operations. For one thing, cloud providers like AWS have more resources and expertise to devote to security than most businesses can afford on their own.
Cloud security is a partnership - the provider is responsible for the security of the cloud, and the user is responsible for security in the cloud. This means you're in control of the security of your applications, but if you're new to the cloud it can be helpful to seek expert advice to make sure you're as secure as you'd like to be.
Want to learn more about security in the cloud? Check out ep 7 of our podcast!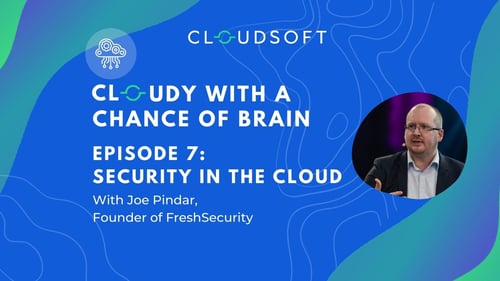 4) Scale to meet demand
At its core, the cloud is all about providing users with the ability to scale quickly and easily. By leveraging the power of virtualization, businesses are able to access as much computing power as they need at any given time, allowing them to meet peaks and troughs in demand without having to invest in expensive new hardware.
Not only does this provide businesses with more flexibility when it comes to their IT infrastructure, but it also gives them a competitive edge. When operating in the cloud, companies can react quickly and efficiently to changing market conditions, giving them an edge over their competitors by letting them focus on what really matters: growing their business.
5) Greater resilience and disaster recovery
The distributed nature of the cloud means that if there is an outage due to natural disaster or other unforeseen circumstance, companies can quickly resume operations without missing a beat - and with minimal impact on customers.
For example, AWS is composed of Regions, a physical location with clusters of data centres, and Availability Zones which are groups of data centres within these Regions. Each AZ is physically isolated from the others, and has its own independent power, cooling systems and physical security. You can see AWS's Europe Regions (yellow) and constituent AZ's (blue) here: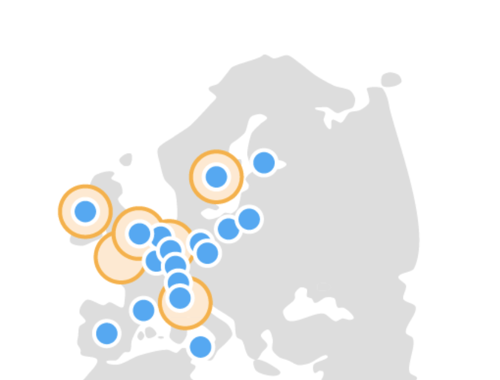 This design means that if you're focused on high availability and continuity you can design applications to run in multiple AZ's and even replicate data across Regions. However, not all applications will need this level of resilience - so it's wise to consult with AWS experts to find the right balance for you.
6) Access to new technologies, like machine learning and AI
If 'data is the new oil', then the cloud can help you transform it into fuel for your business.
Big Data initiatives require infrastructure suited to storing and processing large amounts, which can be very expensive, and to be elastic enough to scale rapidly when new datasets are added.
As well as providing lots of options for data storage, it's often more cost-effective and efficient to use existing XaaS solutions from large providers. For example, AWS offers a huge range of Machine Learning products, from SageMaker for building, training and deploying ML models to products like Amazon Lex chatbots, Amazon Comprehend for Natural Language Processing and Amazon Rekognition for automated video and image analysis.
Thinking about migrating to the cloud?
Cloud migration can help businesses of all sizes become more efficient, more agile and more competitive. In addition to the six reasons we've outlined in this blog post, there are many other benefits to migrating your business operations to the cloud which will be specific to your organisation.
Funding for cloud migration
As an AWS Advanced Consulting Partner on the Migration Acceleration Program, we are able to help you access generous funding from AWS to assist with the assessment of your cloud readiness, the planning of your migration as well as the delivery. You may even qualify for AWS credits to your bill once your workloads are up and running in the cloud.
Want to learn more about how cloud migration can help transform your business? Let's talk! Complete the form below and one of our AWS Experts will be in touch to arrange a call.