AWS Migration Acceleration Program: The MAP to cloud migration success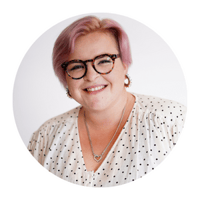 Charlotte Binstead
AWS' Migration Acceleration Program (MAP) helps businesses to migrate their workloads and applications to AWS quickly and efficiently. With the help of an AWS Partner with Migration Capability like Cloudsoft, the MAP program will:
assess your organisation's cloud-readiness,
assess the workloads to be migrated,
estimate the financial benefit of migrating them to AWS,
determine migration paths and priorities,
provide generous AWS funding for:

the assessment and preparation of your cloud migration;
the implementation phase, to migrate and modernise your workloads, and;
credits to your AWS account to reduce your AWS bill post-migration.
Want to learn more about the benefits of migrating to the cloud? Check out this page.
How does it work?
AWS Migration Acceleration Program consists of 3 basic steps: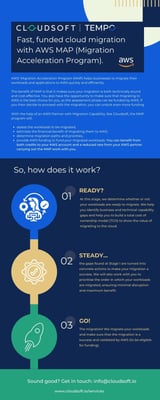 Ready? At this stage, we determine whether or not your organisation is ready to migrate. We help you identify business and technical capability gaps and help you to build a total cost of ownership model (TCO) to show the value of migrating to the cloud - and help your business case.
Steady? At this stage, the gaps found at Stage 1 are turned into concrete actions to make your migration a success. We will also work with you to prioritise the order in which your workloads are migrated, ensuring minimal disruption and maximum benefit.
Go! The final phase is migrating your workloads and making sure that the migration is a success and validated by AWS (to be eligible for funding).
What's the benefit of the AWS Migration Acceleration Program?
The benefit of MAP is that it makes sure your migration is both technically sound and cost-effective. You also have the opportunity to make sure that migrating to AWS is the best choice for you, as the assessment phase can be funded by AWS. If you then decide to proceed with the migration, you can unlock even more funding.
By migrating to AWS with an Advanced Consulting Partner like Cloudsoft, you get the benefit of our extensive AWS experience built up through many previous AWS migrations. We can help you to:
Put together a concrete business case for your cloud migration;
Decide on the right migration strategy;
Prioritise which workloads to migrate, when;
Assess the technical requirements for migrating workloads to the cloud;
Deliver any rearchitecting required to get the workload ready for the cloud;
Ensure your workloads are optimised for cost, security, performance, reliability and sustainability.
Up-skill your team throughout the project and beyond, so you can run your new cloud environment with confidence.
AWS also provide an incentive in the form of AWS credits, which they apply both to the assessment phase (reducing your costs) and to workloads migrated to the cloud which fit their criteria. A partner like Cloudsoft can help you make sure these criteria are met and that you get the maximum funding possible.
Everything you need to know about migrating to AWS - and more
Get your copy of our exclusive guide to cloud migration, which explores the benefits of cloud migration, how to make your migration a success and how to overcome the risks.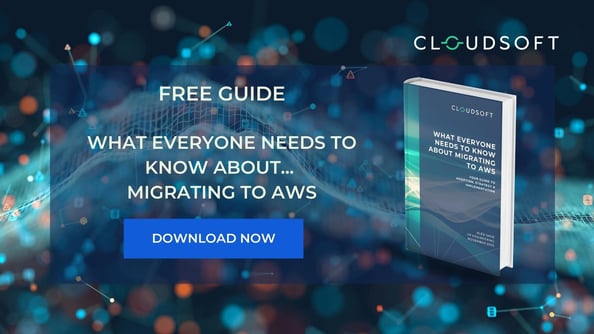 Want to learn more about cloud migration with MAP? Let's talk.
Tell us where you're at with your cloud migration plans, and we'll arrange a suitable time to talk about how we can help you progress.