Tempo
Cloud Migration Strategies: Guiding Principles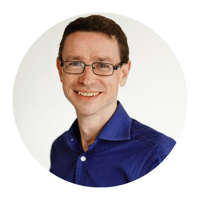 Aled Sage
At Cloudsoft, we recommend a three-phase approach to the cloud migration process. Whilst every organisation and its cloud journey is unique, this consistent overarching migration process provides strong guiding principles. It is proven to work for organisations of all sizes and maturity levels, across industries, whether migrating a single workload or thousands.
The information in this blog post comes from our Migration eBook: What everyone needs to know about migrating applications to the cloud. You can get your copy here.
The three-phase approach
1. Assess
This phase focuses on assessing the future cloud state of an organisation. It requires cross-functional collaboration from stakeholders to understand the necessary stages of the journey: the business case, current cloud-readiness strengths and weaknesses, and an action plan to address any identified gaps.
2. Mobilize
During the mobilise phase, the gaps identified during the preceding assessment are addressed. The activities include building a baseline environment (the "landing zone"), driving operational readiness, and developing cloud skills.
3. Migrate & Modernize
In the final migrate and modernize phase, the actual movement of individual applications is planned, executed and validated. Once an application is migrated, it's recommended that you many organisations will make subsequent improvements and modernizations in one or more dimensions: to continue to get the full benefits of the cloud.
These methods accelerate innovation and increase agility, resiliency, and efficiency to accelerate speed to market and customer outcomes.
Our latest Migration eBook, What everyone needs to know about migrating applications to the cloud, focuses on the third Migrate and Modernize phase. For more information, you can download and read it here.
Although every organisation and its needs are different, we find this approach combined with implementation processes from the "7 Rs" provides a strong foundation of guiding principles for cloud migration.
The 7 R's of Application Migration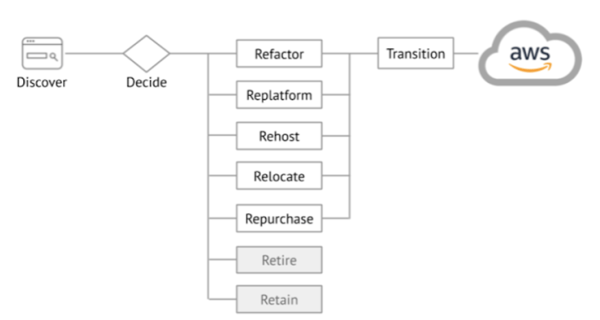 The seven most common migration (and non-migration) strategies, or the "7 Rs", are:
Refactor;
Replatform;
Rehost;
Relocate;
Repurchase;
Retire;
Retain.
There is no "one-size-fits-all" approach when it comes to migrating applications to the cloud. Each application must be considered independently, paying attention to its internal architecture and strategic relationship to the business. It is common for large migration programmes to use several of these methods at the same time.
Non-migration strategies and outsourcing
There are situations where cloud migration is not always the best solution for certain applications. In these cases, non-migration methods such as retire and retain are used.
Sometimes organisations discover workloads that are no longer required during cloud migration. Alternatively, they may find that they can consolidate multiple deployments of an application in a single shared service and decommission the rest. In both these cases, the decision to retire the applications can provide immediate savings.
The retain method is applicable in situations when workloads are best left where they are. For example, when software requires unusual hardware, because of contractual applications, or when existing sunk cost necessitates the business to continue operating on-premises assets.
Repurchasing allows the organisation to offload all responsibility for hosting or administering a particular business function, which is instead procured as a service, usually consumed over the internet via a web browser.
It is most commonly used for "supporting" functions such as payroll and CRM. Outsourcing the delivery of these services allows the business to focus scarce IT resources on projects that are more aligned with its core mission.
Choosing the right migration strategy
The four remaining migration methods—relocate, rehost, replatform and refactor—lie on a spectrum of increasing effort, cost and complexity:
Note, however, that as the organisation invests more effort to optimise a given application, it unlocks more of the cloud's potential for agility, reliability, scalability, security and cost reduction. This need not be tackled all at once; an application's position on the spectrum is not set in stone. For example, one could rehost a workload and subsequently refactor it once running in the cloud. This can help an organisation get to the cloud quickly while also realising the long-term benefits that the cloud brings.
Over the next week, we'll be going into greater depth on each of these migration strategies. You can get a head start by downloading a copy of our Migration eBook: "What everyone needs to know about migrating apps to the cloud", which explores each of these approaches in detail.
Working with a partner like Cloudsoft
For many firms, deep knowledge of cloud platforms is not a core competency central to their mission. For them, the sheer breadth of cloud services and the nuances of different migration approaches can be hard to untangle. In such cases, working with a cloud partner can de-risk the options and accelerate the firm's cloud adoption strategy.
Cloudsoft partners with organisations at all stages of the cloud journey: lending crucial strategy advice through the assess and mobilise phases, guiding the selection of migration methods for different workloads, and assisting with the technical planning and implementation of the migration itself. Staffed with experienced application developers, we also frequently continue to work with customers post-migration, refactoring and modernising the migrated workloads.