How Digital Platform Conductor tools solve the top 3 critical I&O challenges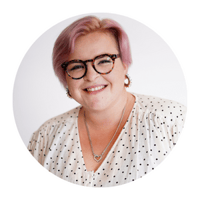 Charlotte Binstead
There is no doubt that cloud is in the ascendant, and adoption will only continue to grow. But this obscures the true, hybrid nature of the majority of enterprise infrastructure and the critical role of trusty, on-prem mainframe systems which are powering backend services.
According to a recent Infosys survey of 1,500 senior tech leaders, 88% of systems are legacy and 45% reside on legacy mainframes. And whilst not all of these systems will make their way to the cloud, that doesn't mean they don't play a fundamental role in powering enterprises' digital transformations.
However, the shift towards cloud means that infrastructure, like software, is increasingly delivered by external third party providers. And as the number of these third parties grows, so does the concept of what Gartner terms 'the digital supply chain':
I&O must adopt the notion of managing hybrid digital infrastructure as a supply chain.
- Gartner
This means treating cloud providers, edge locations, on-premises servers etc. as infrastructure suppliers, and I&O can use these suppliers, plus HDIM tooling (co-ordinated by a Digital Platform Conductor) to create their products, which are increasingly composable platforms.
Infrastructure and Operations leaders charged with managing these complex digital supply chains face three critical challenges over the next few years:
1. Complexity
I&O leaders are challenged by the complexity of their hybrid digital infrastructure, and systems which run in multiple on-premises and cloud environments.
2. Blurred boundaries
I&O leaders are challenged by the rise of DevOps and service-oriented architectures, which has blurred the boundaries between implementation, service delivery and monitoring.
3. Assessing and communicating value
As a result of this complexity and shifting boundaries, I&O leaders often struggle to assess the business value of infrastructure and operations activities and to communicate this clearly to other decision makers in their business.
Digital Platform Conductors solve these 3 critical I&O challenges
The Inaugural Gartner Market Guide for Digital Platform Conductors introduces an innovative new category of tooling which can help I&O leaders to meet these challenges.
Digital Platform Conductors (DPCs) can improve I&O leaders' ability to manage their complex hybrid infrastructure and improve their ability to prove value.
Download the shareable summary here.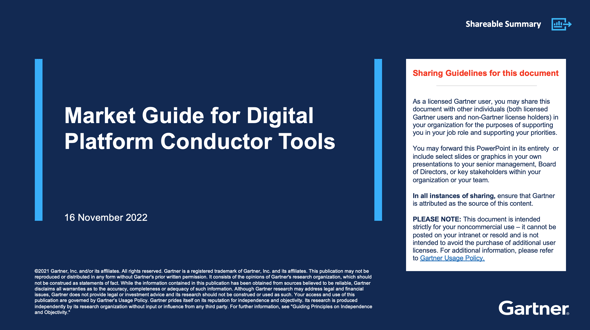 Gartner clients can download the full report here.
Gartner estimate that:
by 2026 75% of DPC tool adopters will be consistently successful at demonstrating business value vs 25% of non-adopters
So, what is a Digital Platform Conductor?
Gartner first introduced Digital Platform Conductors to the scene in 2021 and since then have refined the vision of what these tools can do.
In the Inaugural Gartner Market Guide for Digital Platform Conductors, issued in November 2022, Gartner outlined the core features of a Digital Platform Conductor tool. DPCs should:
Provide I&O leaders with a unified set of capabilities which enable them to manage their infrastructure across on-prem, cloud and edge.
Integrate with HDIM tooling.
This enables:
an overarching view of infrastructure
the evaluation of infrastructure's contribution to business value
Importantly, DPC tools don't replace your existing tooling. They enable you to create a cohesive view of all your organisations' digital infrastructure by integrating with, and joining up, your existing tooling.
Implementing a Digital Platform Conductor means assessing your functionality needs, and ensuring that they are aligned with your infrastructure model.
According to Gartner, there are two axes on this model:
The variety of systems in the environment (simple vs complex)
The degree of fit required for technology to meet business goals (commoditised vs tailored)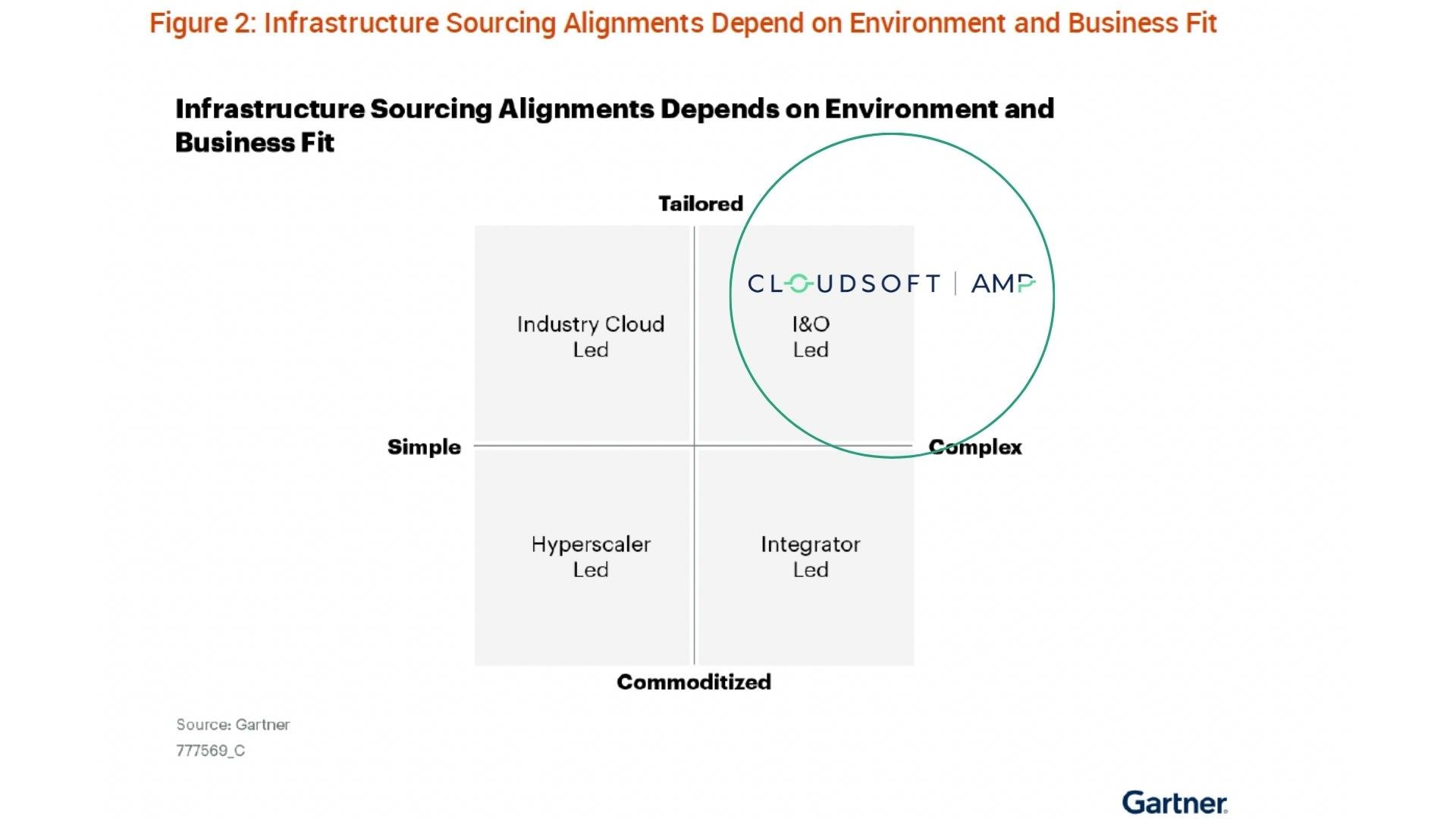 Cloudsoft AMP has been named in the Market Guide as meeting the needs of complex, I&O led infrastructures. Gartner subscribers can read the full report here.
Cloudsoft AMP - a Digital Platform Conductor for complex infrastructure environments
Cloudsoft AMP benefits organisations with complex infrastructure environments, with teams who are focused on enabling business-led technology efforts. These teams need to be able to clearly demonstrate, communicate and improve the value that their tailored platforms are delivering and how they align with the business' goals.
Cloudsoft AMP helps these teams to modernise and enables I&O teams to deliver value through tailored platform offerings.
Digital Platform Conductors like Cloudsoft AMP can also deliver platform orchestration, integrating core enterprise services within and between different technology platforms.
Finally, DPCs like Cloudsoft AMP help leaders to increase their focus on efficiency, agility and innovation without sacrificing resilience, which in the current regulatory environment for Financial Services is doubly important.
Want to learn more? Download the guide to Cloudsoft AMP.
No registration required!