Working From Home: 7 fun (and tasty) ideas for care packages for your people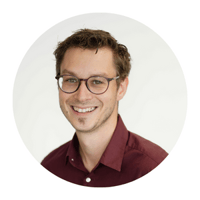 Ludo Farine
The 'new normal' prompted Cloudsoft to get creative to replace the usual team get-togethers and the casual pub night outs we were so used to enjoying.
We miss the office and working together in-person as a team. We like working from home, but the office was a place where we could interact with our colleagues. We would usually have a few treats in the office like the famous and ever popular donuts, ice creams in the summer or healthier snack options. Being in the office was also an opportunity to get together and have some time outside work by going for a pint at the pub around the corner, do a treasure hunt in town and finish off at karaoke! We wanted to keep this tradition alive whilst all working from home and keep it fun.
We've managed to keep the sense of fun between colleagues whilst miles apart rather than desks apart. It was also important to us to try and support smaller, local businesses too.
In this blog Head of Operations Ludo Farine shares some of the ways we've done this. Hopefully these ideas will inspire some fun ideas for your company too!
Chocolates 🍫 from Oban Chocolate Factory
Oban Chocolate Factory is a small shop in Oban that creates delicious hand-made chocolate. They have amazing choices of artisan bars for all gourmands: the delicious milk chocolate with forest fruits, the decadent white chocolate with brownie fudge, or for the spice lovers, the dark chocolate with chili flakes! They also have more funky options like the Baby Unicorns or even the Haggis Eggs, which were especially popular in the bundle!
Cocktails in-a-box 🍸 from NIO
NIO Cocktails is an innovative brand that creates premium cocktails. Whether you prefer a classic Mojito, a Manhattan, or go for an original Milano Torino - you'll be spoiled for choice. But what makes NIO Cocktails unique is the way they send those cocktails straight to your home…in a cardboard box! Super practical and it doesn't take away the taste of the drinks. So build a box of 3 or 6 cocktails of your choice and recreate the bar experience at home!
Coffee Beans ☕ from Artisan Roast Coffee Roasters
Everyone needs coffee. Artisan Roast Coffee Roasters, locals from Edinburgh, bring the best beans from around the world. You will not be disappointed with the quality of the coffee, and you can choose by flavour profile and strength. Ask your colleagues whether they prefer beans or ground coffee. But not any ground coffee - you can ask whether they will make their coffee in a cafetiere, Aeropress, espresso or filter! Artisan Roast will prepare the coffee to your taste and your needs and deliver right to your door.
Snacks 🐷 from Serious Pig
Serious Pig started after being fed up with cheap peanuts or crisps they were getting with their beer at the pub. This is where they decided the best of the drinks deserved the best of the snacks. They offer a variety of snacking salamis and oven-baked cheese. Yes you heard it. One of their best-sellers being the Pub in the Post, perfect to recreate the ambiance where you get a range of snacks and a choice of drinks - whether your colleagues prefer beer, wine, or even G&T.
Craft Beers 🍺 from Brewgooder
Brewgooder is one of Scotland's newest breweries. What makes Brewgooder different is their mission: bringing clean water to people in need. They fund various projects; they already helped more than 100,000 people across the world by building wells and water treatment facilities. But they want to go further. Their goal? Provide clean water to 1,000,000 people! But they are a brewery first so how are the beers? Their flagship beer is Clean Water Lager, which I found very crisp and refreshing. They've recently added their CHILOOZY IPA for a little spin and also their MOYO JUICE Pale Ale for something fruity. Not only you will support a great local brewery, and on the top of that for all profits to go to good causes.
Sodas & Lemonades 🍬 from Square Root London
Forget the Coca-Cola, Sprite and Fanta, Square Root London is upping the game of the Soda universe. Using only natural ingredients, nothing from concentrates, the company varies its range of soda and lemonades during the year by only using seasonal fruits.
Scottish Hampers 🏴󠁧󠁢󠁳󠁣󠁴󠁿 from Gretna Green
What better way to celebrate Burns Night with traditional Scottish treats? Burns Night is the annual celebration of the life and poetry of Robert Burns, the author of many famous Scots poems. The Cloudsoft Team were able to celebrate Burns Night over Zoom thanks to Gretna Green, a family business operating since 1886. They offer a variety of Scottish hampers featuring the famous Irn Bru, Scottish tablet and Tunnock's caramel wafers. Slainte!
There are many more local, small or ethical companies we would like to support during this pandemic, while giving our employees a little thank-you package.
Did your company get some care packages organised? Which company or shop shall we consider next? Let us know as we are keen to hear your suggestions!