Gartner Hype Cycles, 2021
Gartner's annual Hype Cycles identify transformational solutions to the problems tech leaders face now, and will come to face in the future.
Gartner names Digital Platform Conductor tools, like Cloudsoft AMP, as transformational; they tame complexity, provide observability and drive orchestration.
Cloudsoft were cited as a Representative Vendor of Digital Platform Conductor tools in four 2021 Gartner Hype Cycles:
- Monitoring, observability & cloud operations;
- I&O Automation
- IT Service Management;
- Agile & DevOps.
Get your one-page guide to the strategic tech trends identified in each Hype Cycle below.
Leaders need tools that will work with what they already have, can meet them at their current level of maturity, and are flexible enough to adapt as they improve and their needs change.
- Roger Williams, Gartner
Monitoring, observability & cloud operations
Organisations with a mature approach to observability are more able to immediately identify a problem, its impact on other systems and the solution to the problem. This slashes downtime, and enables a much faster RTO.
Get your guide to learn about how Digital Platform Conductor tools deliver the observability you need.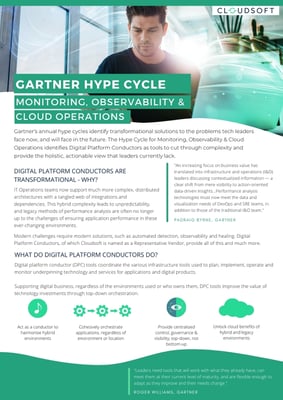 Automating infrastructure & operations
Fewer than 20% of organisations currently use continuous infrastructure automation for application delivery, missing out on opportunities for improved agility, reduced risk and cost optimisation. (Gartner, 2021)
Get your guide to learn about why Digital Platform Conductor tools are the transformational solution to the challenge of continuous infrastructure automation.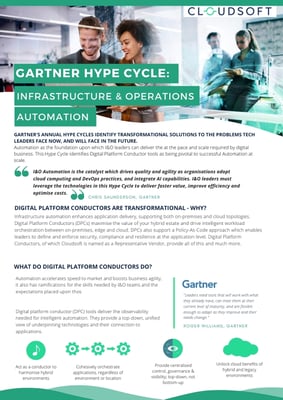 Keep up to date
Sign-up for our newsletter
IT Service Management
I&O leaders must be able to monitor, evaluate and manage the entirety of their technology estate. The growing complexity of these estates means that ITSM tooling needs to go beyond automated service provisioning towards full orchestration.
Digital Platform Conductor tools can manage and optimise applications in any environment - providing the top-down view of the entire estate which ITSM leaders currently lack. Get your guide to find out how.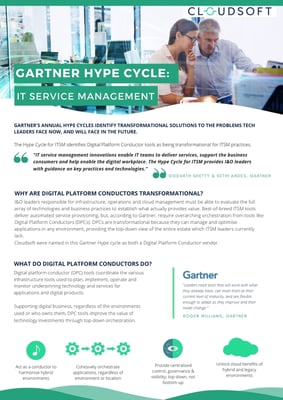 Agile, DevOps & Promise Theory
DevOps is now a widely-adopted and proven approach, enabling tech leaders to optimise cost and reduce risk at speed and at scale, delivering greater value to customers. The question is now how to scale these DevOps successes.
Promise Theory is an innovative approach to building trust and understanding uncertainty in digital systems, and is a catalyst for scaling DevOps efforts by enabling I&O leaders to "enforce consistent, declarative and repeatable methods for deploying and managing systems".
Learn more about how DevOps and Promise Theory underpin Digital Platform Conductor tools in our one-page guide.