Explained: the 7 Dimensions of Operational Resilience.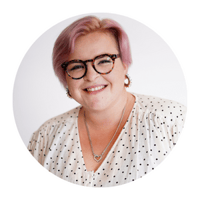 Charlotte Binstead
We've previously explored the strategic imperative of maturing operational resilience; as organisations' digital footprints grow, so does exposure to new and unforeseen risks. The growth in digital services is putting unprecedented pressure on IT to keep delivering agile, reliable and scalable platforms in technology environments which are increasingly complex and fragile.
There is a clear need for improved resilience (just look at the number of jobs in this space currently being advertised), but the 'how' is another matter entirely...
Resilience helps you to thrive, not just survive.
A mature operational resilience strategy is the antidote to this fragility induced risk, helping organisations to resist, absorb, recover from, and adapt to disruption - and even thrive in the face of it.
The greatest danger in times of turbulence is not the turbulence; it is to act with yesterday's logic.
- Peter Drucker
However, for an organisation to be truly resilient it must address resilience challenges across each of these 7 key strategic dimensions. Technology is now so intertwined with business operations that IT will contribute to the resilience of all of these dimensions.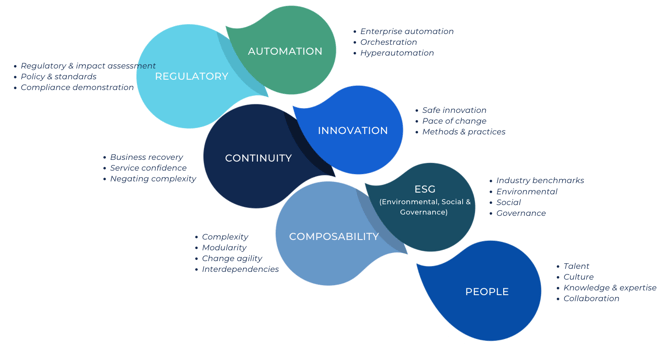 Each of these dimensions is explored in detail in our latest White Paper: The Complete Guide To Digital Operational Resilience in 2022, now available for download.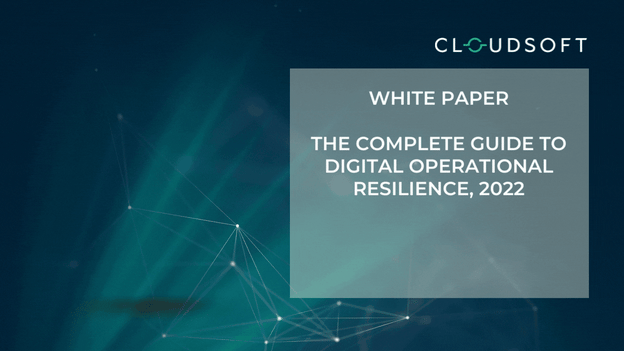 7 Dimensions of Operational Resilience
1. Composability
Organisations need to match the pace of technological change by designing for 'composability'.
Composability combines mindset, practices and tools to accelerate digital business. A composable business is one that's designed to rapidly and efficiently change, thereby enabling better business outcomes during periods of uncertainty. It is the mindset, the technologies and the operating capabilities that enable organisations to innovate and adapt quickly to changing business needs. This fits squarely into the model of operational resilience maturity.
2. Regulatory
Highly regulated industries are seeing significant increase in regulatory requirements related to their digital operational resilience- for example, in response to spiralling technological complexity the UK and EU are both implementing strict new rules for the Financial Services industry regarding their resilience and the availability of critical business services. Importantly, they must be able to demonstrate how they are delivering this to the regulator.
3. Automation
Automation is "the engine that powers digital initiatives to deliver value" and is fundamental to driving both resilience and agility.
Good automation goes beyond opportunistic automation of repetitive tasks and delivers joined-up orchestration of workloads across hybrid IT environments. Once a solid automation practice has been established, organisations seeking to accelerate maturity should look towards hyperautomation.
4. Innovation
Innovation is hard, and keeping up with the accelerating pace of digital change can be even harder.
Delivering sustainable and resilient growth requires organisations to be adaptive and to adopt an 'outward-in' mindset - observing and absorbing the best practices, technologies and skills.
This requires technology leaders to re-architect their business to be adaptive too, and this requires composability - this applies to business culture, technology platforms as well as to business and operating models.
5. ESG (Environmental, Social, Governance)
There is a growing global pressure for organisations to act as environmental stewards, to treat employees, customers and other stakeholders ethically, and to exhibit great corporate governance. ESG has become critical as organisations seek to make their efforts to be good corporate citizens transparent, measurable and reportable.
IT therefore plays a vital support role in any ESG program; ESG and sustainability are tech-intensive, requiring lots of smart technology to gather, analyse and exploit data from operations as well as the value chain. For many enterprises, the IT infrastructure and services are core business and therefore material to the enterprise's ESG performance and environmental footprint.
6. Continuity
Large enterprises share a common problem — accumulated legacy and supporting systems — many of which are outdated and duplicate functionality. With the move to digital business, any minor IT outage can have a major impact on revenue, costs and customer experiences; all due to new risks and greater harm potential due to the increased IT interdependency and complexity.
Continuity needs to be treated as an enterprise initiative; it needs to leverage new technologies and new levels of automation to ensure an immediate return to a state of 'readiness to grow' after a business disruption.
7. People
The Great Resignation combined with the 'Great Retirement', presents new challenges to operational resilience in enterprises which often rely on a complex hybrid of heritage and modern technologies, and the skill sets required to run them.
Resilience requires actions and capabilities that are only present with human interaction; any single technology or product cannot deliver resilience.
- Gartner
Working resiliently requires a commitment by individuals and groups to work in different ways, to make decisions in a different way, and to consider automation and other technologies as true enablers.
The Complete Guide to Digital Operational Resilience
The majority of resilience programs rarely address the full spectrum of risk in this holistic way. In the Complete Guide, each of the dimensions is broken down into a set of resilience capability indicators, allowing organisations to be measured and providing insight that your teams, investors, customers and regulators will be keen to understand.
Measured against the Cloudsoft Operational Resilience Maturity Model, this helps organisations understand their current resilience maturity level and identify any gaps to be mitigated; now to demonstrate compliance, and in the future as resilience matures.
Download your copy of the Complete Guide to Digital Operational Resilience via the form.