TEMPO
Workload renovation - why AWS is a natural habitat for your Windows workloads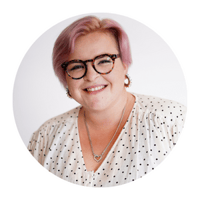 Charlotte Binstead
It may surprise you to learn that there are currently 2x as many Windows Server instances running in AWS than on any other cloud provider. In fact, AWS have been running Windows workloads for 14 years - longer than Microsoft Azure has even been in existence! 70% of containerised applications globally are running in AWS, and this huge momentum towards cloud will only gather pace, with 49% of workloads being moved to the cloud by 2023.
In his talk at our recent recent Cloud Pathway event., AWS Partner Development Specialist John Noakes addressed how running Microsoft Workloads on AWS can meet the demands of 'workload renovation', helping you to do more with less, accelerate digital transformation and free up resources for innovation. This blog is a summary of that talk, of which you can watch the recording below.
'Workload Renovation' for digital transformation
There are two phases to renovating your workloads: Migration and Modernisation.
The migration phase involves identifying targets for migration to cloud, with the intention of freeing up resources and taking advantage of the flexible cost-model of cloud. Cloud also offers almost limitless scale, without the need to procure more hardware. Of particular importance to Windows workloads is the ability to optimise licensing and operations, and save significant sums whilst doing so.
There are a number of approaches to this, which you can read more about in our Cloud Migration Strategies blog. AWS actually offers over 200 services to help you migrate your workloads to AWS, specifically designed to support Windows.
However, a simple 'lift and shift' approach to migration inhibits users from taking full advantage of the flexibility of cloud. To do so, workloads should be modernised for the cloud. This helps you to make further savings by breaking down monolithic legacy applications into microservices that are faster, more agile and more innovative.
How cloud addresses competing business priorities
Of course, cloud migration and application modernisation exist in a landscape of competing business priorities - as shown below on one of John's slides.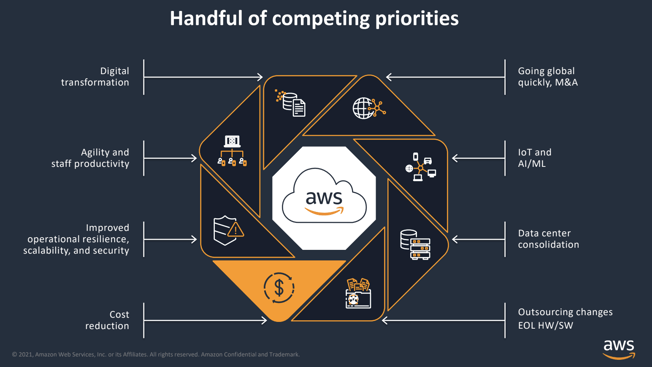 You can see that cost reduction is often the biggest priority for most businesses, but there are a number of others such as:
taking advantage of Machine Learning and Artificial Intelligence;
improved security;
improved resilience and;
enhanced scale.
The neat thing is that cloud, and AWS especially, can help you to manage these competing priorities and squeeze every drop of value from your workloads. There are over 360 Microsoft-centric services in the AWS basket already, and this number only continues to grow.
Use cases for migrating and modernising
The below image shows the different use cases for migrating to and modernising on AWS, linked to the priorities above and shows how workloads can be renovated over time, in stages, as your cloud usage matures.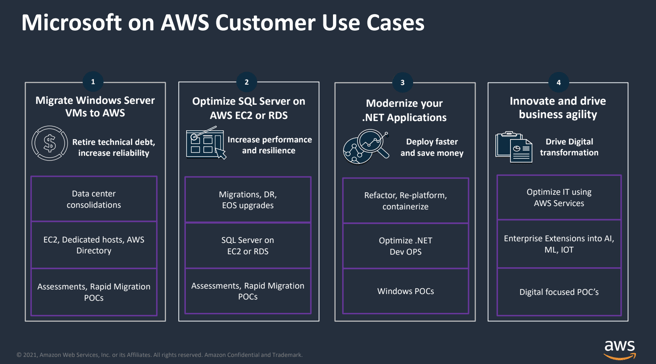 Microsoft Workloads on AWS - breadth, depth & experience.
AWS CEO Andy Jassey famously said that there is "no compression algorithm for experience", and in the 14 years AWS have been supporting Windows workloads they've developed globally scalable, reliable, cost efficient solutions to slash Total Cost of Ownership (TCO) and accelerate innovation:
Want to renovate your own workloads?
For more on addressing migration challenges, optimisation, licensing and customer case studies listen to John's talk here, or get in touch with us to arrange a free, 30 minute consultation on how to make the most of your own Windows workloads on AWS.